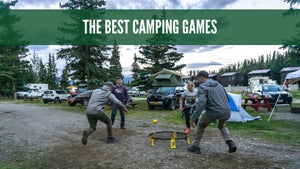 The Best Camping Games You Have to Try on Your Next Trip
Camping Season
Summer is just around the corner, which means camping season is in full swing! On our blog, we talk a lot about all the adventurous outdoor activities you can partake in while camping, such as hiking, mountain biking, kayaking, bouldering/rock climbing, etc.
What about all the time in-between those activities when you are relaxing with family and friends at your campsite? Well, that's our favorite time to play games! So, today we are going to go over some fun camping games that are perfect for the whole family!
Camping Games
Camping is such a great experience because it gets you outside, off your devices, and allows you to spend quality time with family and friends. On our camping trips in particular, all of our best memories are made while playing games with loved ones. Listed below are all of our top game choices. 
1. Spikeball
This is one of our all time favorite camping games! It is a four person game inspired mostly by volleyball. We usually do spik ball tournaments on our camping trips so every team gets to play. It is a great game for all ages because it is competitive and keeps everyone active. You can learn more about the game here!
2. Card Games
A deck of cards is an essential item for every camping trip! And for those trying to pack light, it's the best choice. We have so many favorite card games, some that require their own deck of cards and some that can be played with a traditional deck of cards. Check out the list below!
Phase 10
Dobble
Rummy
Hearts
Crazy Eights
Spoons
Go Fish
3. Kan Jam
Kan Jam is made in the USA just like GO-KOT, so we were a fan from the beginning! No matter where you go camping, this Frisbee game is the perfect addition to your packing list. It is another fun and competitive, 4 person game that the whole family is sure to enjoy.
4. Corn Hole 
In our opinion, corn hole is a classic camping game and it is always packed in our car just in case. You can truly set up corn hole anywhere, no matter where you go camping. Children and adults always have a blast with this one, so it will definitely be crowd pleaser if you add it to your packing list!
5. Ladder Golf
We love Ladder Golf because you can set it up when you arrive at the campsite, and can casually or competitively play throughout the day. You can also play singles or as teams. Just about everyone has played some version of this game, so it is fun for family and friends of all ages!
6. Horseshoes
Another classic game that we play often! Horseshoes is an easy and relaxing game that takes up a little less space than some of the other options we've listed. It is also great for all ages because you can play just for fun, or the adults can make it extremely competitive! If you will be camping near the beach, we definitely recommend this one.
7. Board Games
If you have a picnic table at your campsite, plan on bringing a folding table or are camping in your RV that has a table, then board games might be the perfect addition to packing list! After a long day of camping activities, everyone may be tired and might just want to sit down and play a relaxing game. Or, if it is raining, board games are a great way to pass the time! Some of our top choices for camping trips include:
Trekking the National Parks
Ticket to Ride
Jenga
Yahtzee
Scrabble
We'd love to know what your favorite camping games are. Comment below and let us know! Also, let us know which one from our list you plan on trying out on your next camping trip!
---