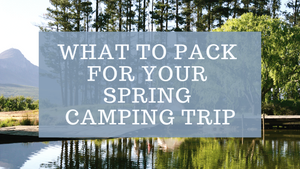 What To Pack For Your Spring Camping Trip
Camping in The Spring
The first official day of spring is March 20 and it is one of the most beautiful times to be outdoors! The trees and flowers are starting to bloom and wildlife becomes more active, perfect for wildlife viewing! We also love camping in the spring because it is not quite as crowded as it is during the summer months. However, spring camping can be the most difficult to pack for. That is why we have created our go-to, spring camping packing list!
Spring Camping Packing List
Appropriate Clothing
Pack layers! Spring weather can be unpredictable, so layering is your best option. Make sure all outer layers are either waterproof or water resistant, like this lightweight windbreaker jacket from Mammoth Clothing Co. For under layers, be sure to avoid cotton. It dries too slowly, which will leave you chilled if it rains.
Spring nights can still be cold, so pack warm pajamas.
Bring a pair of sturdy, water proof boots. Ideally, ones that go over your ankles and offer plenty of support for hiking.
Pack plenty of socks, and hats and gloves if the predicted weather in your area will be cold. These items are the most likely to get wet, so having extra is always a good idea!
The Roan -  Lightweight windbreaker jacket from Mammoth Clothing Co.
Camping Gear
Bringing a 3 or 4 season tent is very important since it will provide adequate protection against rain and wind.
Pack your GO-KOT! Staying off the chilly, wet ground will help keep you warm and comfortable at night.
Check the weather and choose which sleeping bag will best fit your needs and the temperature range. Typically for spring, you will want to choose a sleeping bag rated for 20-40 degrees.
A waterproof or water resistant backpack is also a good idea to bring in case you plan on hiking and being away from the campsite during the day.
Bring plenty of food and water, ideally an extra day's worth. Also, bring something that can filter water just in case you need it. We recommend the GRAYL Ultralight Water Purifier Bottle.
Starting a fire during the rainy season can be challenging. Plan ahead and bring several different ways of starting a fire. We suggest a lighter, storm proof matches, and fire starters that will catch even when wet, such as birch bark, pine pitch, or cotton balls covered in Vaseline.
Pack a portable stove, cooking fuel, cooking pans, utensils, plates, bowls, and mugs.
 Additional Supplies
No matter what season you are camping in, always pack a first-aid kit.
Depending on where you are camping, your phone's navigation system may or may not work. So, it is a good idea to bring a map and a compass.
With all the new blooms, also comes bugs! Remember to bring a good bug spray, and if you are bringing your dog, make sure they have been treated for fleas and ticks.
If you have springtime allergies, don't forget to pack your allergy medicine!
If you are backcountry camping or staying at a campsite without restroom facilities, bring along toilet paper and/or a portable toilet. 
If you are a coffee drinker, bring all the supplies required to make it! Not sure what coffee supplies to bring? Check out this post!
While not necessary, consider bringing a small, lightweight umbrella.
---