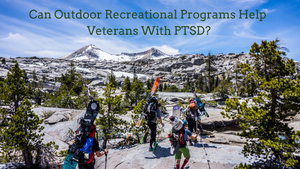 Can Outdoor Recreational Programs Help Veterans With PTSD?
The Power of Nature
Humans evolved in nature and no matter how much the world around us changes or how advanced our technology becomes, the human mind still has a connection with nature. According the American Heart Association, nourishing that bond between our mind and the great outdoors has numerous health benefits. To name a few; it can reduce stress, anxiety, and depression as well as improve your creativity and productivity.
A variety of other studies, published in Psychological Science, further prove that nature has a powerful impact on our health. These studies found that spending time in nature leads to improved short-term memory, reduced inflammation, enhanced ability to concentrate, improved ability to fight illnesses, and better overall mental and physical health.
Nature's Effect on PTSD
The number of veterans with Post Traumatic Stress Disorder, PTSD, varies based on their service era. According to the U.S. Department of Veterans Affairs, PTSD affects nearly 31% of Vietnam veterans, an estimated 10% of Gulf War (Desert Storm) veterans, 11% of veterans of the war in Afghanistan, and 20% of Iraqi war veterans. 
Josh Brandon, who served for 10 years and completed three tours to both Afghanistan and Iraq, has PTSD. After his service, Brandon perused his passion for alpine climbing and being in the great outdoors. When he realized the positive effect it had on his own mental and physical health, he created the nonprofit Hound Summit Team. This organization focuses on helping veterans with PTSD and combat-related injuries to rebuild their confidence and improve their physical abilities, while also allowing them to use their leadership skills.
In early 2013, Brandon went on to partner with the National Sierra Club Military Outdoors program. That summer, the Sierra Club released the study, "Exploring the Benefits of Outdoor Experiences on Veterans." This study measured the psychological well-being, social functioning, life outlook, and activity engagement levels of 98 veterans both before and after the participation in outdoor programs. The results showed that all the veterans showed significant improvement in the above areas the week after their outdoor experiences, and some experienced the benefits even a month after.
The Sierra Club study helped bring about the idea that group-based outdoor activities can have significant positive impacts on veterans struggling with a variety of health issues. It also brought up the interesting point that many veterans would find this approach more intriguing than just the conventional clinical treatments. However, Brandon knew more research was needed to prove that outdoor recreational programs could both improve veteran's mental and physical health and also help ease their transition back into civilian life.
Upcoming Research
In early 2018, Brandon was able to partner with researchers at the University of Washington College of the Environment. They were given $100,000 from REI to conduct the first pilot study examining the effects of group-based expeditions with war veterans suffering from PTSD. The research is continuing with a second pilot study scheduled for spring of 2019, and there are already plans in place to conduct a full clinical trial in 2020.
As veterans ourselves, we have seen the effect PTSD has on our fellow service members. We have also seen the powerful impact both time in nature and having a strong support group can have on individuals. That's why we believe combining these two things in nonprofits, like Brandon's Hound Summit Team, is an amazing idea! We can't wait to see the results of these studies and hope to see the creation of more group-based outdoor recreation programs for our veterans! Also, if you are interested in purchasing one or more GO-KOTs in an effort to support veterans with PTSD, please contact us for special pricing. 
For more information about past research as well as the upcoming University of Washington College studies, check out the full article from REI here!
---