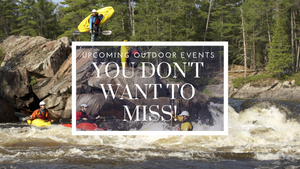 Upcoming Outdoor Events in Alabama You Don't Want To Miss
Outdoor Events in Alabama
There are so many fun outdoor events happening in Alabama over the next couple of months! We didn't want you to miss a thing, so we listed all the details below. Read through and mark your calendars because it's going to be a fun and busy few months!
State Park Events
Eagle Awareness Weekends: Eagle Awareness Weekends take place on weekends from Friday January 25 through February 17, 2019 in Lake Guntersville State Park. There will be birds of prey presentations, guided tours with experienced park personnel, and activities for all ages. This is a great way to get the whole family outdoors and it allows you to see and learn more about eagles!
Family Fun Day at Gulf State Park: This family friendly event will be held on February 2, 2019 from 10am-2pm at the Gulf Interpretive Center by Beach Pavilion. Stations will be set up to teach everyone about birding, fishing, and live animals. You can also practice using binoculars, try out the bicycle obstacle course, or participate in arts and crafts!
Fins, Feathers and Flowers at Lakepoint: This is a weekend long event held at Lakepoint State Park on February 15-17, 2019. This program is similar to the Eagle Awareness Weekends and it offers a variety of activities for wildlife enthusiasts, including birding field trips, wildlife courses, and guest speakers.There are also lodging packages available for the weekend!
Cheaha State Park Trails Workdays: Cheaha State Park has several hiking and walking trails throughout the park. If you have ever wanted to learn about trail work or if you just want to lend a helping hand to maintain this state park, then consider attending these workdays! The trail team will be working on touching up the trails through digging trail tread/surface, removing vegetation, moving rocks, painting trail blazes, and having fun while working hard! You can join them on February 16, 2019 at 10am or on March 9, 2019 at 9am.
Photo of Cheaha State Park from Alabama State Parks 
Competitions, Tournaments, and Races
Xterra Cheaha State Park 8k/15k Trail Run: As part of the 2018-2019 XTERRA Alabama Trail Run Series presented by Black Squirrel Events, this Trail Run will be held on Saturday February 9th, 2019 at the beautiful Cheaha State Park. For more information about the race and to register, click here!
The Braveheart Challenge: Challenge your speed, strength, and stamina with this 6+ mile trail race through Oak Mountain State Park on February 16, 2019! There will be over 20 obstacles throughout the trail and participants can choose to register for the competitive timed race or the open untimed race. Prizes will be awarded to the top 3 male and female competitive racers who successfully complete all obstacles. All racers will receive a t-shirt at check-in and a medal upon completion of the race. There will also be an afternoon party after the race!
Alabama Bass Trail Tournament Series: This tournament allows you to fish the best lakes in the state and compete for your share of over $500,000 in cash and prizes. It offers two divisions and a no entry fee championship with a grand prize of a 2020 Fully-rigged Phoenix 819 Pro Bass Boat with a Mercury 200. The first part of the tournament will be held at Lewis Smith Lake on February 23, 2019 for the North Division and at Lake Martin on February 16, 2019 for the South Division.
Mulberry Fork Kayak and Canoe Races: This is the first part of the Alabama Cup Racing Series and it is held on March 2-3, 2019. These races are a time for local paddlers to come together and test their skills against one another, as well as themselves. It's also a great opportunity to come together as a paddling community and celebrate our local rivers. This event is spectator friendly and has walking trails along the river. The races will also include camping on site, a raffle, silent auction, food, live entertainment, awards banquet, environmental education, and more!
Photo by @matthudd_
Festivals
Beaks and Barks Winter Festival: Every day from mid-January to the end of February, the Botanical Gardens in Huntsville invite you and your furry friends to celebrate in their Beaks and Barks Winter Festival! Enjoy a stroll along the dedicated pet-friendly paths or run free with your pup and other pet parents in the "leash free zone." This festival is also a great time for birding enthusiasts to visit the Gardens because the annual Great Backyard Bird Count will be going on!
Birmingham Winter Beer Festival: This festival will be held on Saturday, Feburary 2, 2019 at the BJCC North Exhibit Hall from 3pm -7pm. There will be more than 150 featured craft brews, four beer gardens, live music, a "Brew University" with education seminars, a silent disco, karaoke, a photo booth, a cornhole tournament and more!
27th Annual Orange Beach Seafood Festival and Car Show: The 27th Annual Orange Beach Seafood Festival and Car Show will be held on Saturday, February 23, 2019 at The Wharf on Main Street in Orange Beach, AL. This event includes a full day of delicious food, 125 arts and crafts vendors, and music for the whole family.  In addition, there will be a Kids' Zone, a huge car show, and the "Paws on Parade!"
Alabama Coffee Fest: Presented by Alabama Multicultural (AMOR), the Alabama Coffee Festival will be held at Cahaba Brewing Co in Birmingham, AL on Saturday, February 23, 2019. Enjoy specialty roasters and coffee shops with unique beans, delicious pastries, and live entertainment during this one-of-a-kind coffee culture experience.
Mardi Gras: Head over to Mobile Alabama to celebrate Mardi Gras this year! While most people think of New Orleans when they think about Mardi Gras, Mobile is actually the birthplace of America's original Mardi Gras. It kicks off in Downtown Mobile on February 15 and ends on Fat Tuesday, March 5! Click here to view the full schedule!
Photo of Mardi Gras from Mobile.org
---