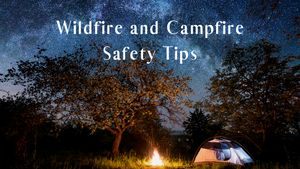 Wildfire and Campfire Safety Tips
Taking Precaution
With many areas experiencing record high temperatures, the risk for out of control wildfires and campfires is much higher, especially when combined with a dry climate. To ensure everyone has a fun and safe summer, we have collected the best wildfire and campfire safety tips!
Campfire Safety
No matter what season it is, no camping trip is complete without a campfire! It is the perfect place to gather around with family and friends, roast marshmallows, and just enjoy the evening. However, there are some steps that need to be taken to prevent campfires from getting out of control. 
Only use designated rings or fire pits that are on gravel or dirt, not grass.

Never use gasoline, lighter fluid, 

diesel fuel or any other flammable liquid to ignite your campfire.
Make sure the immediate area is clear of any dry leaves, sticks, and flammable objects.
Make sure tents, campers, or other items are a good distance away from the fire.
Start your fire with smaller sticks and then gradually add larger pieces of wood, and be sure to stack extra wood upwind and away from the fire. 
 Keep a bucket of water and a fire extinguisher nearby in case of emergencies
Check the weather forecast so you can be prepared. Even a small amount of wind can blow burning debris or sparks onto a flammable surface.
Contain your campfire and keep it small. A suggested size would be a 2ft x 2 ft x 2ft fire.
NEVER leave a fire unattended. Make sure you have completely extinguished  the fire before going to sleep or leaving the campsite. The best way is to drown the fire completely with water and stir the coals to make sure they are no longer hot. 
Wildfire Safety
As stated by the National Park Service, roughly 85% of all wildfires are caused by humans. When the right precautions are taken, though, wildfires can be prevented by humans as well. In addition to following the safety tips for campfires above, here are additional tips to help prevent wildfires.
Never throw your cigarettes, matches, or smoking materials from moving vehicles, or anywhere other than in designated trays or bins.
Always be certain to completely extinguish cigarettes before disposing of them.
Look up and follow your local ordinances when burning yard waste. Avoid backyard burning in windy conditions, and keep a shovel, water, and fire retardant nearby to keep fires in check.
Remove all flammables from yard when burning.
Pay attention to your surroundings and always call 911, your local fire department, or the park service to report an unattended or out-of-control fire.
Don't park your car or any other machine in dry grass, and don't allow gasoline or motor oil to spill on any grass or vegetation. 
If you are using a t

ractor, off-road vehicle or other equipment, such as chainsaws, in wooded areas, they must have spark arrestors.
Special Note
With the 4th of July coming up, it is important to note safety precautions to take when using fireworks as advised by the Red Cross. These do not only apply to the 4th of July and should be practiced whenever handling fireworks.
Have a bucket of water, garden hose or fire extinguisher handy. It is also a good idea to hose down the surrounding grass and other vegetation before lighting your fireworks.
Never let children use fireworks, sparklers or fire crackers unsupervised.
Avoid lighting fireworks on windy nights.
Make sure to douse used fireworks with water to make sure they are completely extinguished.
---